Table Of Contents:
Ear Candy Magazine Reviews The Trials and Tribulations of Spiney Norman
In The Studio Part 1: The Making Of The Trials and Tribulations
Ear Candy Magazine Reviews Weather The Storm
In The Studio Part 2: The Making of Weather The Storm
Ear Candy Magazine Interviews George D.
Neighbors Magazine Article on George D.
Lokvani Newsletter Review of One World One Music Concert
---
Review of The Trials and Tribulations of Spiney Norman, November 2001 - Ear Candy Magazine:
I've always wondered...what if the progressive rock heavies of the '70s got together and made an album in this day and age. No...not one of those cash-in reunion schemes, but an actual honest to god good album?! Well, it hasn't happened yet (and somehow, I don't think it will). BUT, there is the new CD by Spiney Norman.

The album has two things really going for it. First, I love the instrumentation, especially the guitar work - it travels the gamut of Boston, Allman Brothers and Santana without being too derivative. Same goes for the vocal harmonies. Little things, like the ending for "The Best Thing You Ever Had" with its Badfinger-like, "Baby Blue" ending! The Allman Brothers-type instrumental, "Swamp Gas". Secondly, the lyrics hit me on an emotional level, many of the lyrics seem to apply to my life! Songs about picking up barflys (Excuse Me), failed relationships (The Best Thing You Ever Had), growing old (Same Old Road) and the joy of parenthood (Heart Song). "Caffeine High" is especially clever, especially for those of us that don't use illicit stimulants anymore! Spiney Norman even touches on spirituality on "Troubadour", with its Jesus references. But, unlike the tunnel vision of Christian rock bands, Spiney Norman doesn't hit you over the head repeatedly. I mean, there are only so many words that rhyme with "Jesus", "God", "lord", etc. My fave on this album is "Days I'd Rather Forget" - it seems especially personal, almost reading into my life!

The excellent songwriting and professional playing make this CD quite enjoyable. This album is a creeper, but once it gets under your skin, you'll find it well worth the repeats.
---
The Making of
The Trials and Tribulations of Spiney Norman
This is the result one unfortunate interviewer got after asking George to describe the making of the album...
Track by track:
Excuse Me - This is the first tune we wrote together. It started as a really cool jam we had at one of our first rehearsals. The coolest thing about it is that the lyrics are a totally true story, every last detail. Its basically a cautionary tale, so don't get the wrong idea. None of us in Spiney Norman use drugs.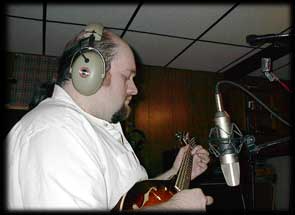 I was in a band called Strider about 7 years ago. We were a foolish, doing all kinds of crazy stuff. We went to a party at these girls' apartment after a gig once and all the stuff I mentioned in the song really happened. Even the book titles on her shelf. "Making Marriage Work" immediately next to "Creative Divorce." I thought that was incredible when I saw it.
The Best Thing You Ever Had - A set of lyrics I wrote when I was really PO-ed at someone who shall remain nameless. Rick's simultaneous conga and kit playing (really) brought this one to life. Jules on backing vocals on this, the first one she came in on. Got all her parts in one take.
Same Old Road - I wrote this song when I was about 19 years old, and our old band Strider released it as a single one month after we broke up, back in 1995. Rick is the one who heard this one and loved it and wanted to do it. I hated the song. I like it now, thanks to the rearrangement. This one destroys the old Strider version.
Troubadour - Wrote this one for one of my best friends, a Christian singer named John Polce. He was down in the dumps and I wanted to cheer him up. We had to record this one twice! We tend to drink a lot of coffee (see Caffeine High), so the first version was ridiculously fast. It sounded like a 33 on 45. It'll be on the box set when we're famous and one of us dies. We recorded Rick's bongos in the stair well into the studio. Listen for my wife laughing her butt off at the end.
Heart Song - This one started life as a rhythm pattern Rick came up with using one roto-tom, one dumbek and a wooden box! "Dun-Ca-Guhhn, Dun-Ca-Guhn-Guhn, Dun-Ca-Guhn." It sounded like the same rhythm as the heart, that 6/8 thing, so I looped a real heart sample. He and I demoed it as soon as he came up with that pattern.
I wrote the lyrics about the experience of seeing my daughter in my wife's womb on an ultrasound.I heard her little heart, saw her hands and feet. That is no lifeless tissue, there. You should see her now, man. Lifeless she is not! Believe what you like, but this is the truth.
Rick and I had a blast on this one, playing timpani and gongs during the instrumental part. They're mixed kind of low, but they're so cool.
I'll Wait For You - Wrote this for my wife while we were dating. I generally despise love songs, but what the hell.
Swamp Gas - The first song we recorded together, believe it or not. We went ballistic on this one! Another cool thing was the fact that a rogue musician had left his Leslie cabinet in my studio, so we put everything through that thing. There are Leslie guitars, keyboards, drums, and harmonica on there. Speaking of harmonica, that's Rick. He's a killer blues-harpist.
Caffeine High - Like I said, we have crazy schedules and drink tons of coffee to fuel them. Wrote the words in the car speeding to a show Rick and I were doing. Great rhythm. This is a fun song to play.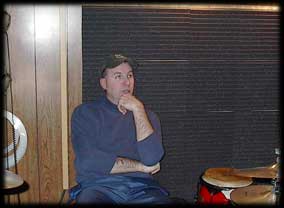 Days Id Rather Forget - I had the chords in mind for a few days, and I pictured them over a kind of Stone Temple Pilots groove. Got to the studio and Rick was showing Rob how he used to play Sympathy For The Devil in his previous band, and I just grabbed that rhythm and put on these chords. We rehearsed it that afternoon, and got the master in two takes that night, recording the music live. Rick and I talked Rob in to scraping the guiro on it.
After we got the take, we were hanging out in the studio, and we started talking about some of the weird stuff we did in the past, and Rick made the comment about his days in the service, "Man, those are days I'd rather forget!" The lyrics are about the experiences of getting screwed up and being rescued by God.
Everything - This one was a labor of love in every sense. I had the chords (as usual). Wrote them while eating a pizza in North Attleboro. I layed down a demo, and let Rick go on it. He recorded 14 tracks of percussion toys of all shapes and sizes. Later we took the coolest four measures of this stuff and made a loop, and we recorded our parts separately over that, Aerosmith style. Guitars first, then drums, then timpani and other percussion, then bass, then vocals. Took us about two weeks. For whatever reason, we all wanted this one to be absolutely perfect. We tried several different basses on it, different guitars, mandolins, everything. It came out pretty good.
Joseph's Story - Rick and I wrote and recorded this entire suite in two evenings. He had the rhythms for the first part, and the chords for the second. I wrote the music for the first, and we basically improvised the entire thing. It was released in February of 2001 on a compilation CD by "Mountain Rythym," a drum company that endorses Rick. Rightfully so. Their drums are all over the album. Rick and I are unspeakably proud of this tune, and we're writing a theater show around it for modern dance. We have a ton of new stuff in this vein on tape now.
And that's it, unless you got one of the first pressings of the CD which also contains:
Sleeping In The Ground - We had a terrible day in the studio, it was pouring out, a horrible day. We were chilling out with a beer. Rick was checking out my collection of antique microphones and said, "why don't we set some of these up and just jam on a blues tune or something?" I put up three little EV crystal mics from the fifties, Rob played washboard, I played guitar and sang and Rick stomped on the floor with a tambourine around his ankle and played the blues harp. This was the first tune that popped into my head, so we did it right there in one take. It was great, but... we couldn't get licensing on the song, which we didn't write, so we had to pull it off the album.
---
Ear Candy Magazine Reviews Weather The Storm
Spiney Norman is back and showing definite progression since their last album. Of course you have the tight, drop-on-a-dime instrumentation that you expect from the band after their first CD. Then there are the well-written songs including my personal Spiney Norman favorite - the bio-themed song. Lyrical these guys are great storytellers and while some songs have a moral - they don't get preachy!
I'm just gonna touch on a few personal faves of mine from this disc:
The band shows off their musical chops on "Barbecuing With Bourbon", a bluegrass song infused with Zeppelin III style instrumentation as the band weaves in and out of these two styles. "Allison Wonderbra" combines Dick Dale riffs with a hint of Spanish-rock style with a catchy groove that uses those classic Spiney Norman story-telling of a disillusioned girl! (I love the lyrics, "since the day he checked her oil and forgot to put the dip-stick in"). "Home" has a raga/middle eastern flavor that morphs into a groove that you can't get out of your head. And finally there is "A New Day", a song that really hits home lyrically - damn, this is my life!
While some critics might say the band is derivative of the progressive rock bands of the '70s - THIS is the CD in which Spiney Norman comes into their own as a band. As the CD plays, you can almost hear the band saying, "so you think we are retro huh? Well, listen to this!
---
The Making of Spiney Norman - Weather the Storm
There never was a more appropriate title for an album. Spiney Norman was going through all the usual catastrophies and crises that bands go through; personnel changes, dealing with music business people, dealing with each other, knowing that they were making special music but wondering if anyone would get to hear it. Add to this brew the birth of three children and the horrors of September 11, 2001 and you have the atmosphere in which Weather The Storm was produced.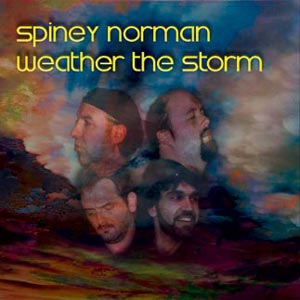 Track by Track:
Weather The Storm - Here George writes a lyric wherein he combines two different yet similar struggles: relationships within the band and within the family.
The song, written in one summer evening by George and Rick and recorded two nights later, was realized in three takes. At the end of the final take, sound man and assistant engineer Mark McKay grabbed the talkback mic from the studio's control room: "I think that was the best one yet."
The recording was then fleshed out with a new rhythm guitar track from Scott Caldwell, rainstick played by Mark, hand percussion by Rick, and a scorching lead guitar solo from George, achieved on the first take. The lead vocal was added in one more take, and then George, Scott and Mark stacked the 24 harmony vocals behind the lead. In all, this entire recording only took 5 hours. Maybe adversity is good for creativity.
Allison Wonderbra - Yes, Allison is a real girl, but George won't tell anyone who she is. The names have been changed....
The song was a result of an interesting jam that took place in November of 2003 between George, Rick and former bassist Rob Barwick, with the basic music tracks being recorded the night it was "written." Rick and George, working alone in the studio on Christmas Eve, added the sleigh-bells to the guitar solo, a sort of topical in-joke. However the song was not completed for several months due to George's struggles with an ongoing throat ailment. In fact, his vocals for six of the album's 11 songs were all recorded in one week, with four being recorded in one day. This was the first song tackled by George on that final day of recording.
Home - The intro and interlude is based on the Bb Tamboura drone, and is a tribute to Rick's and George's love for the classical music of India. The strange, whooping instrument heard prominently on the intro is called an Udu drum. George's guitar on the intro and solo is fed through a thirty-year old Univibe pedal ala Hendrix, and the distinctive flute solo is the work of veteran jazzer Art Manchester, who came into the studio and nailed it in one take without ever having heard the song before.
The lyrics tie these disparate musical themes together in a plea for peace and unity. They were written by Rick and George in the wake of 911.
A New Day - A lyric partly written by former bassist Rob, and later fleshed out by George. One of the highlights of this song is the use of a giant Vibraphone, loaned to George by musician Jim Seabra. It was George's first time on the instrument. "I didn't do anything special, but it sounded kind of pretty." The acoustic rhythm guitar is provided by George's student, Gabe Riskalla.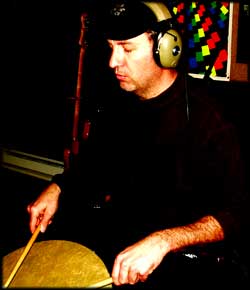 In The Shadows - Originally recorded and released as a solo track by George in 1998, In The Shadows was written during the mind-breaking battle to free himself of a druggie lifestyle and its associated horrors. With Rick the song was transformed, taking on a distinctively latin feel during the guitar solo which, contrary to all the expectations elicited by a hard-rock chorus, is performed on acoustic guitar. George shows that the hollow box can rock just as hard as the plank.
Barbecuing With Bourbon - Another in a line of Spiney instrumentals, this one born of pure improvisation. Hand percussion and claps are provided by members of Rick's Rhythm Room, harmonica courtesy of Rick, mouth-harp performed by Scott Caldwell and smoking guitar and banjo from George.
Sent A Message - In this set of lyrics, George works out his frustrations in the music scene. His impassioned vocal is another from the strenuous last day of sessions, and was in fact the last track recorded for the album. The music is a wonderful collaboration between Rick and George, with call and response drums, guitars and harmonica. Holding the entire thing together is one of Rob's most active and funky bass lines. He is a master of his instrument, as this entire album shows. Incidentally, the working title for this song was "Funky Farm."
Ideal Cafe - A fictional story set in a factual place, sung over a Native-American rhythm and lit with backwards guitar flourishes. If this isn't unlikely enough, in the middle it turns into a full-fledged modal-jazz breakdown. George is in fine storytelling mode here, in another of the vocals recorded at the eleventh-hour session.
Inspire Me - One day, George's daughter Rosie asked him where people go when they die. Could she call them on the phone? Would she see them again? Dad did his best to explain to the just-turned- three-year-old his belief that death isn't final, it's just a transformation from one kind of life to another. Finally she asked him, "Will you die, Daddy?" George answered her the only way he could. "Someday, but it won't happen for a long, long time." "How long?" "A hundred years."
After thinking about it for a minute, Rosie said, "Daddy when you die, I'll go with you and hold your hand so you don't fall out of the sky."
That's the story behind Inspire Me. How it was recorded doesn't really matter, does it?
See The Light Again - A jam turned song by Rick and George. The track lay in the studio dormant for several months until one night, sitting at the bar at Johnny Mac's in Attleboro, George penned the lyrics about holding onto hope in the future. Featuring Rick's unique use of the Cajon, a large wooden box George likes to call the "outhouse," See The Light Again is the perfect last word for this album. "No matter what it takes, I'll make it to the end."
Twilight - While See The Light Again is the last word, it's far from the last sound. The album's theme of passing through danger and crisis to hope and faith is encapsulated musically in this piece. A Rick and George original in the mode of Joseph's Story from their first album, Twilight begins in a sinister place. Deep drums and voices rumble amidst the sound of a river, and a single highspeed, frantic, seemingly random drum pattern sounds like someone running. Soon, though, another set of drums begin to takeover the landscape, and in a flash we are in flight. George's melodies sit atop this massive wall of drums, with the use of harpsichord and acoustic guitar. It's a perfect ending to this moody album. We hope Spiney Norman can continue to Weather The Storm and make many more records like this one.
Weather the Storm was recorded at Galilee Productions, Cumberland, RI.
Produced by Spiney Norman, and engineered by George D. with the assistance of Mark McKay.
(c) 2004 Galprod Music ASCAP All Rights Reserved.
Lyrics on this page reprinted by permission of the publisher.
All photos on this page by Mark McKay.
---

Spiney Norman is a band that you might not hear on your regular radio station - but it sure ain't for lack of talent or ability. The band simply falls through the cracks because their goal isn't the cut-throat global domination of the music scene. They are your classic "purist" musicians who are content to put CD's out and play music live, letting their music alone do the talking.
I talked to George Dussault, the down-to-earth guitarist and vocalist of Spiney Norman about topics ranging from the band's modus operandi, their attitudes/goals and their great new CD.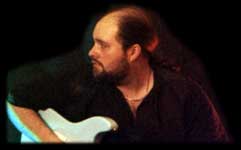 E.C.: First - I know this is an asinine, clichéd question - but I've got to ask it because your band name is unusual. What does the name Spiney Norman mean and how did you choose it for a band name?


George Dussault: Monty Python. Spiney Norman was a very tall hedgehog who stalked Dinsdale Piranha, the gangster. I can't help it, I'm a Python freak, you know. Rob (the bassist) and I were just starting the band, looking at drummers, and the name popped into my head. So I called him and left a message on his machine saying, "From now on we are a Norman with Spines."


E.C.: One thing I've noticed in your lyrics - although some might have some "dark" subject matters (I prefer to call them real life situations) there is ultimately a message of hope in the lyrics of Spiney Norman. When you write lyrics is this intentional?


George Dussault: Not all real life situations are dark. Many of them are, but life has its good moments too. I mean, no offense to any of the bands out there, but I get tired of hearing singers complaining about how nobody loves them.


When I'm feeling dark, I get dark lyrics, like on "In The Shadows" from the new CD. I was in a real bad place at the time. But it's OK to write about good things too. As far as hope is concerned, I believe that there is ALWAYS hope. If I didn't hold onto that Id have killed myself years ago.


E.C.: Is there a lot of thought put into the lyrics, i.e. a message?


George Dussault: The only sort of premeditated agenda I put into writing lyrics is that I want them to be honest. That's it, really. I think we all feel that way. The lyrics on this CD were more of a group effort than on the last one, and while we were throwing ideas around, that "message" of hope was always there. Maybe we're just trying to reassure ourselves.


E.C.: With your "day job" in a recording studio, does this mean you prefer the creative studio side of music to live performance?


George Dussault: I love the studio and the stage equally and wouldn't want to live without either. Getting on the stage was one of my personal reasons for putting Spiney together in the first place, because I hadn't done any gigging for a few years before. I was getting the itch.


The studio is where the ideas come to life for me. I absolutely love the process of putting an album together, and its great that I get to do it all the time. But I always wanted to be a singer and a guitarist, and the stage is where I get to do that.


E.C.: Also, will your job hamper any possible touring plans?


George Dussault: No. If the gigs line up right and the offers are there, we will make the dates. I make my own schedule, you see.


E.C.: And, what does the live performance mean to Spiney Norman?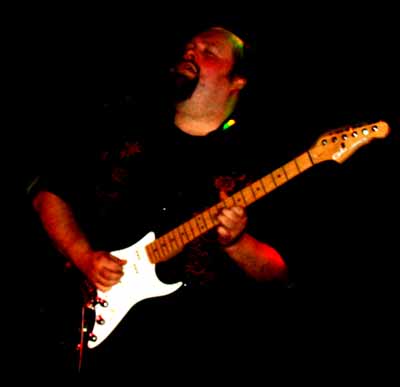 George Dussault: It means a chance to have fun and play our asses off. It means a chance to prove that we are as good live as we are in the studio. (I think we're better live a lot of the time.) We love performing and we go balls to the wall at every gig.


Spiney is a really improvisational band on stage as well, believe it or not. We rearrange songs and have fun with them at every show, and that's a great buzz. We opened up our last show with "Are You Experienced!"


E.C.: Your new CD, in my opinion, shows a marked development in the band's style. I feel that Spiney Norman has really come into their own.


George Dussault: Thanks.


E.C.: What mindset or goals did you have going into the recording of the new album?


George Dussault: I think we all subconsciously wanted to top the first one, which we we're proud of. But the general goal is the same every time, just trying to make some music that we can listen to and smile.


E.C.: Another great aspect of the new CD is the variety of musical styles represented. You have rock, "world music", jazz-style fusion and even blues/bluegrass. But it still feels like a "band" album. Is this the result of the band sharing the same musical goals?


George Dussault: Sure. We have a lot of different influences but when we get together we jell. That's why I love this band.


E.C.: What music "moves" you these days? Not necessarily as "influences", but as music that inspires you?


George Dussault: I've been listening to "Forever Changes" by Love a lot lately. I also listen to a lot of jazz. I get off on great songwriting and improvisation. I'm not sure what the others have been playing.


E.C.: How does the band know when it is time to do a new CD?


George Dussault: When the feeling hits. We write and record all the time, since we do a lot of our rehearsing in the studio. It took us awhile to get Weather the Storm out there simply because life kept intruding on our plans. There were three babies born during the making of this one!


E.C.: When will we see a new release from the band?


George Dussault: Hopefully in the fall of 2005. I was thinking of calling it "John's Petting Zoo." Haven't discussed it with the guys though.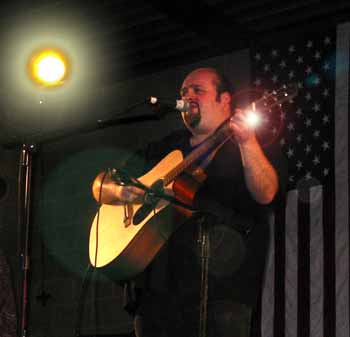 E.C.: Are you a perfectionist in the recording studio?


George Dussault: To a point. When it feels right we keep it. That's why the CD covers say "Produced by Spiney Norman." We produce each other to keep each other in check.


E.C.: In this day and age, "success" for musicians often just means obtaining that major label record contract. What ultimately defines success for Spiney Norman?


George Dussault: First of all we want to be satisfied with our music. Second, we want to get it out there to as many people as we can without having to be something we're not.


The trend around our neighborhood is for cover bands and tribute bands, and there's really no local original music scene. It's amazing really, because when we go out and gig it's obvious that the concept of "original music" is completely foreign to so many people. We're just doing what comes naturally, but people keep telling us that we have big balls for doing our own music. Fortunately, our shows always go down really well.


It's almost like trying to start a grass-roots movement away from pre-packaged music. I don't regard myself as some kind of crusader, but we have to get people to leave their comfort zone for a minute if the music business is going to survive.


Personally, I feel successful when our audience is nice and big and having a good time. I'd like to see our following expand over the whole US. Id like to tour regularly, keep making records and enjoy the music until I die.


E.C.: Finally, would you like to be a judge on American Idol?


George Dussault: Only if I can judge the judges.

Click here to go to the Ear Candy Website!
---
"Neighbors" Magazine does a cover story on George D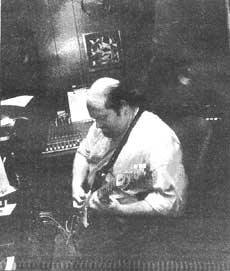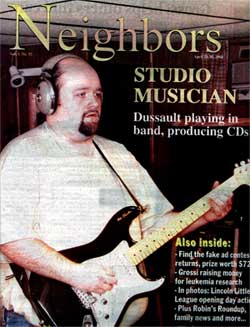 Rhode Island magazine "Neighbors" journalist/photographer Donna Riley-Lein came out to Galilee Productions last week to interview George and photograph Spiney Norman at work on the next album. Here's some of what she wrote:
Maybe it's too much "double caffeine with a cocktail of nicotine," but George Dussault gets a weird feeling when the audience starts singing along to his songs.
"You don't realize how personal your songs are until you hear them on the radio or the audience starts singing a song along with you that's about a piece of your life," says Dussault, shaking his head and smiling.
And they are personal. They range from joy at seeing his daughter Rosie's heart beat at 19 weeks on an ultrasound to those "days I'd rather forget." Dussault describes the band's sound as "The Beatles meet Tito Puente and Jimi Hendrix on a train bound for Africa."
The article goes on for two pages talking about George's life and career, and features four photos. Thanx to Donna for coming out!
---
Lokvani Newsletter (India) Reviews One World - One Music Concert featuring Rick And George.
One World Music - Indo-Jazz Fusion by Charlie and RARE
by Kaiser Majid
When the Jazz veteran Charlie Mariano played together with the Ragha and Rhythm Ensemble at Bridgewater State College, the effect was sheer magic. A fantasy - seeing Billie Holiday singing with Lester Young. A dream - to hear where the music would have gone if only John Coltrane had lived long enough to continue his explorations with Ravi Shankar....
Sometimes, magic happens - and sometimes, if you are lucky enough, you get to be part of such an experience.
Redemption came in October 2000, in the form of an invitation to go see Charlie Mariano and the Karnataka College of Percussion featuring Ramamani and Dr. Krishna Raghavendra performing the world premiere of Sketches of Bangalore with the WDR Big Band in Koln. This was possibly the first time that a Big Band and an Indian ensemble performed together. On the two nights that they performed (the second night was video taped for German TV) to sold out crowds, I was constantly reminded of first record that Shakti (with John McLaughlin ) released, particularly the piece entitled "What need have I for this What need have I for that I am dancing at the feet of my Lord All is Bliss All is Bliss." During those 2 performances, it was as if we were in that state of musical grace a sense of confluence and oneness.
In a period of over 35 years of watching (Jazz, Blues, Rock, world and classical) concerts I can honestly say that there have only been a handful of such moments. So, when last month I found out that Charlie was going to be in Boston and was scheduled to perform in a free concert with Dr. Krishna Raghavendra and his ensemble Raga and Rhythm Ensemble (RARE) I was excited. Dr. Raghavendra (Ragha) is a senior member of the Karnataka College of Percussion (KCP) in Bangalore, the leader of RARE and the founder/Director of Ragha School of Music in Massachusetts. He plays the veena - an ancient classical plucked stringed instrument dating back 3,000 to 4,000 years. "My interest has been to promote Indian music and integrate with other western and non-western forms", says Ragha. "My veena has been custom made, is detachable and has been amplified with pickups". In addition to playing with KCP, Ragha has performed variously at the Berlin Jazz Festival; at the Esplanade for India Day; at numerous Fund raising concerts, e.g. for Cracked Earth in support of the Gujarat earthquake victims.
As for Charlie Mariano born in Boston, he has lived this thing called Jazz and 'world music'. Over a 60 year 'career' he has played alto with the giants the masters of the order of Bop - including Bird (Charlie Parker), Diz (Dizzy Gillespie); Mingus ( to name a few of the high priests). He went and stayed in the East during the 60's. He learned from the musical traditions and instruments of the Japanese, the Malayasian and the Indians and came back to mold the landscape of the musical West in the 70's and 80's. He is an educator, an author - and a master musician. He left America to live in Europe in the 70's and stays there to this day. Of Charlie, Michael Naura said "He transcends the boundaries between the sounds of different cultural groups as scarcely any other musician in the field or current improvised music."
The concert "One World, One Music" was held at the Bridgewater State College Campus Center Auditorium on May 31st. All compositions in the program were by Ragha (except for one, Bangalore by Charlie) and were based on the traditions of classical Indian music, Folk , Vedic hymns and contemporary music.
The concert opened with Fisherman Song (raga Suddha Dhanyasi), an instantly recognizable folk song showcasing the Indian countryside. The mixed crowd responded to the opening number enthusiastically. The Fisherman's Song was followed by Dance of Shiva, a contemporary piece with the percussive Rick Morin introducing the tune followed by V.K.Raman on flute, Ragha on the veena and Charlie on alto. The tempo picked up with Anand Iyer driving the ensemble with his mridangam to a cresendo much like the dancing Shiva. Composed in the raga Maya Malava Gowla, Dance of Shiva was set to a 4/4 beat. Both these songs were taken from the recently released CD Rare Pulse with Ragha and RARE. The third song in the first set was Charlie Mariano's tribute to Bangalore. Bangalore is set in the raga Hemavathi (to Adi Tala - beat of eight). Starting with the haunting and melodic intro from Charlie the crowd was in rapt attention for Ragha, who followed with a virtuoso performance on the veena and was followed by an equally evocative Raman on flute.
By the time Bangalore concludes most in the audience who have not heard Charlie with the KCP or RARE were sold on this confluence of the old and the new of East and West.
The Great Train Journey (raga Valachi set to Roopaka Tala beat of three) followed Bangalore and immediately evokes the knowing nod of recognition of the iron horse in motion as it slowly picks up speed and flies through the night. It felt like if one closed their eyes one would be transported to the ageless beauty of a distant India with its eternal sights, rhythms and melodies.
When Across The Desert (raga Vakulabharana set to a beat of eight) started to end the first set; jazz, the art of conversation it seemed had seamlessly joined in on the alap on the veena reminding us of the sounds of the desert and, Islam and Jewish traditions. The seemingly disparate idioms and influences of the two musical traditions seemed to converge into a cohesive whole.
The second set started with the infectious Rare Pulse. Set in the raga Bheempalas (beat of eight) this piece was inspired by Charlie and spans the spectrum from be-bop to hip-hop, from the traditional to the esoteric. The piece build as each ensemble member drove the momentum to its explosive conclusion as the crowd responded with cheers. A spotlight duet with Anand Iyer and world percussionist Rick Morin followed the ovation for Rare Pulse, which then flowed to a duet between Ragha and Charlie to start Lion in the Middle. Taken from the recently released CD The Great Train Journey, Lion is based on raga Simhendra Madyama and set to Roopaka Tala (beat of three). At times Lion evoked sketches of flamenco with multi-instrumentalist George Dussault on guitar and V.K Raman flautist extraordinaire - proving why he is one of the leading exponents of his instrument from South India.
Tryst With Destiny concluded the evening's program. Composed in raga Revathi (beat of four) the composition is based on Vedic chants and goes through a traditional setup and concluded with a contemporary beat. Starting off with Ragha and Raman on exchanges between veena and flute - the ensemble followed with solos by Charlie and the ensemble members before the piece slowed down to its natural conclusion.
What we are witnessing in concerts like these is a tapestry of the world unfolding to us giving us a glimpse of the musical possibilities that exist, and the shape of things to come. We are at a place and time when neo-bop integrates with the ancient vedic chants, where this is a natural jazz, bop and blues response of the millennia old call of the veena, mridangam and flute. If you missed them look for them; if you have not heard of them or this music look to their collective collections of recorded material and there is a lot out there, but mostly support them if and when you can because it is pure joy - enjoy.
Original compositions performed were from the CDs "RARE PULSE". "THE GREAT TRAIN JOURNEY" and "BANGALORE". For more information, please visit www.raghasmusic.com or e-mail to ragha@raghasmusic.com or call 508-279-1690.